INTERESTING NEWS
Trending
Top 10 Places To Visit in Delhi To Make Your Weekend Memorable
Places To Visit in Delhi
Dilwalo ki Delhi isn't just a place but an emotion. An emotion that greets its visitor with the excessiveness of architecture, mouth-watering flavours and a list of tourist attractions that absolutely never ends. From monuments and temples to parks and museums, Delhi has so much to explore. Don't believe us? Then here is a list of most beautiful places in Delhi that would spur you to pack your bags.
India Gate
Situated at Rajpath in Delhi, India Gate is one of the best places to visit in Delhi. Also known as All India War Memorial, Indian Gate was erected in the memory of 82,000 Indian and British soldiers who lost their lives during the First World War and Third Anglo-Afghan War.
Visit India Gate for the gardens that line the prestigious structure making it an ideal spot to chill out with friends or family on weekend evenings. Moreover, at night, the India gate entertains a decent crowd and glows warmly under floodlights.
Entry Cost: Free.
Opening Hours: Always open.
Red Fort
Red Fort is named among the top 10 tourist places in India as it reeks off history from each of its red sandstone. Built by fifth Mughal emperor Shah Jahan, the fort is the reminder of the Mughal era and also a symbol of India's struggle for freedom.
The fort that lies along the bank of river Yamuna also has several museums that put on various Mughal artifacts on display including curtains, clothes, swords, etc. The lights show in the evening are yet distinct attractions that you can buy tickets to.
Entry Cost: Foreigners, 500 rupees. Indians, 35 rupees.
Opening Hours:9:30 a.m. to 4:30 pm. Closed on Mondays.
Swaminarayan Akshardham Temple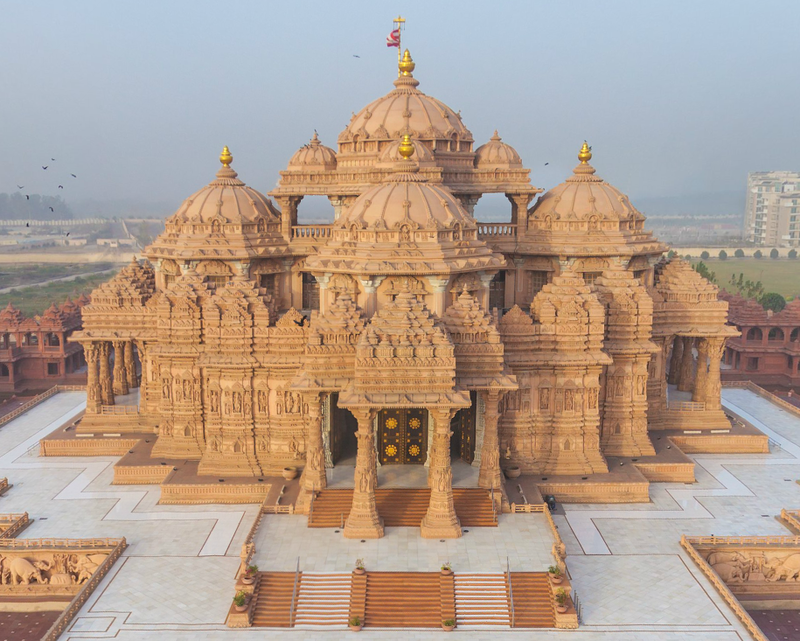 Swaminarayan Akshardham Temple, famously known as Akshardham, puts on display the Indian culture both spiritually and architecturally. Timeless Hindu teachings have been etched on the World's Largest Comprehensive Hindu Temple walls and give the visitor a glimpse of Indian culture like nowhere else.
The temple dedicated to Swami Narayan has India's largest step well and gardens you can visit to soothe your eyes.
Entry Cost: Free entry
Opening Hours:9:30 a.m. to 6:30 pm. Closed on Mondays.
Jama Masjid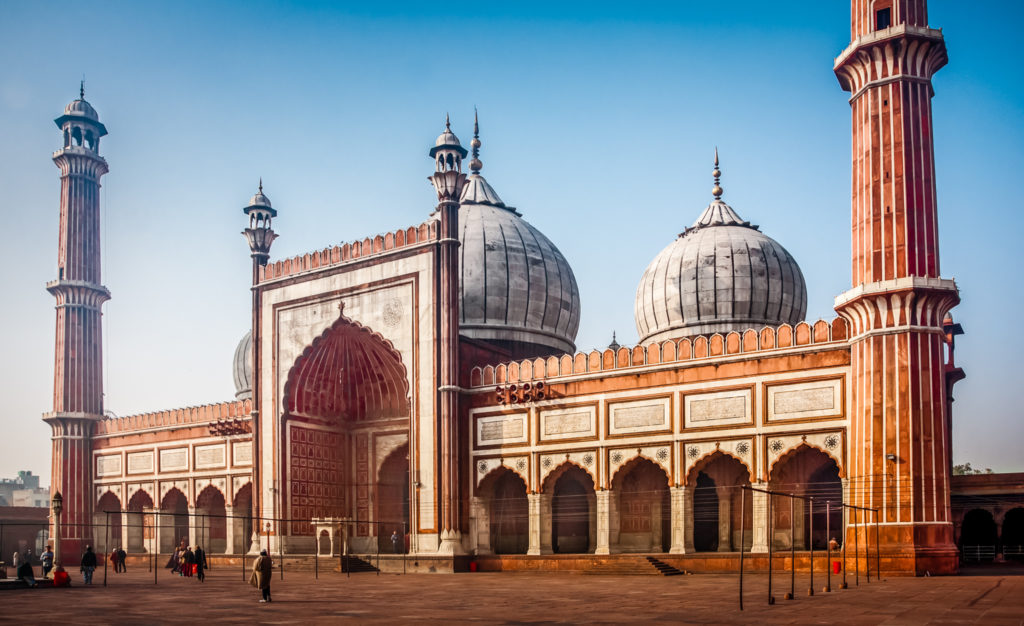 Jama Masjid is no less than a treasure to Delhi. Built by Mughal Emperor Shah Jahan it is one of the largest mosques in the country and a fine example of Mughals' crafty hand at carving alluring architect. The mosque has four towers and ascending the southern tower gives you a stunning view of the city.
You will also find many food stalls in the Masjid's vicinity serving mouth-watering Briyani and other offerings that would excite your taste buds. Moreover, if you plan to offer prayers at the mosque, ensure you dress appropriately.
Entry Cost: Free entry
Opening Hours: All days 7:00 AM – 12:00 PM 1:30 PM – 6:30 PM
Lotus Temple
Bahai Temple, also known as Lotus Temple is an architectural marvel that signifies unity. The Lotus in the Bahai Temple symbolizes four religions namely Hinduism, Jainism, Buddhism and Islam. The Bahai temple has its nine doors open to all letting 2,500 visitors at a time savor the mesmerizing atmosphere that it entails. It is particularly pretty at night when it is attractively lit up.
Entry Cost: Free entry
Opening Hours: In Winter – 9:30 AM – 5:00 PM In Summer – 9:30 AM – 7:00 PM Closed on Monday
Bangla Sahib
Bangla Sahib, known for its association with the eighth Sikh Guru, Guru Har Kishan is one of the most peaceful places to visit near Delhi. Visit Bangla Sahib to feast on delicious langar, a Sarovar and to rejuvenate your soul. The complex included the Gurudwara, a kitchen, a pond, a school and an art gallery. What else can one crave for?
Entry Cost:Free entry
Opening Hours: All Days 24 hours
Also Read: 10 Kitty Party Games That Will Add That Extra Fun in You Kitty Party
Hauz Khas Village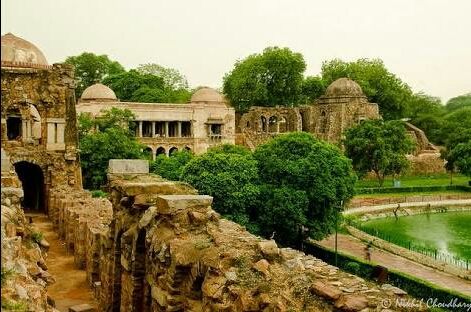 Modern Hauz Khas in recent years has turned into a posh locality with numerous restaurants, art galleries, and boutiques where you can meet and greet new people. From partying to shopping, Hauz Khas entertains all modern cultures with a blend of the rural atmosphere (the reason why it is known as Hauz Khas Village).
The Hauz Khas complex is replete with a water tank, an Islamic educational institution, a mosque, a tomb and the semi-urbanized village of Hauz Khas. Visit Hauz Khas after sunset, to explore its best.
Entry Cost:Free entry
Opening Hours:The Hauz Khas Village complex is open from Monday to Saturday between 10:30 AM and 7:00 PM. Closed on Sundays
Chandni Chowk
Don't call yourself an explorer if you haven't visited Chandni Chowk also known as the heart of Delhi. Although a bit chaotic, the place is home to big markets where you can shop for inexpensive goodies. Also, Chandni Chowk isn't just about shopping but also the best place to feast on some of Delhi's best street food. The renowned Karim Hotel, a Delhi dining institution, is also located there.
Entry Cost:Free entry
Opening Hours:Monday to Saturday between 9:30 AM and 8:00 PM. Closed on Sundays
Also Read: Do You Live Alone? It Increases Mental Disorders Problems, Says Study
Qutub Minar

A UNESCO World Heritage, Qutub Minar, the tallest brick minaret in the world, is yet another example of Indo–Islamic architecture. It was built in 1193, but the reason behind its construction remains a mystery.
However, some believe that it was erected to signify the victory and the beginning of Muslim rule in India. Apart from the Minar, you can also visit several historical monuments around the complex including the Qutub Complex with Quwwat ul IslaMosqueue and the Iron Pillar of Delhi.
Entry Cost: Indian – Rs. 30, Rs. 500 For Foreign, Rs. 0 per child (below 15 Years)
Opening Hours: Everyday 7:00 AM and 5:00 PM
Humayun's Tomb
If you think Humayun's Tomb shares similarities with the Taj Mahal in Agra, that is because it was the inspiration for the Taj Mahal's creation. The tomb was built in 1570 and accommodates the remains of  Mughal emperor, Humayun along with Bega Begum, Hamida Begum and Dara Shikoh.
The tomb is part of a greater complex set among beautiful gardens where you can relax and soak the soothing environment. It is certainly the best place to visit in Delhi in weekends.
Entry Cost: Indian – Rs. 30, Rs. 500 For Foreigns
Opening Hours: Everyday 6:00 AM and 6:00 PM
Other places to visit in Delhi
Apart from these, when in Delhi, one can also visit other places including Raj Ghat, Khan Market, Lodhi Gardens, National Zoological Park, etc.
You may like to know:
» Nora Fatehi Biography
» Best Pictures of Ananya Panday 
» Upcoming web series on Netflix 2019
» Tips for Good Night Sleep